We help host the Applied Mathematics Colloquium.
We take part in the Numerical Analysis Research Club.
We have a CM3 weekly group research seminar running on a regular basis.
Speakers: CM3 group members and special guests.
Attendance: all members of CM3 and invited collaborators/visitors.
One of our in-person weekly meeting took place at 1pm on 11/16/2022 in Mudd 417.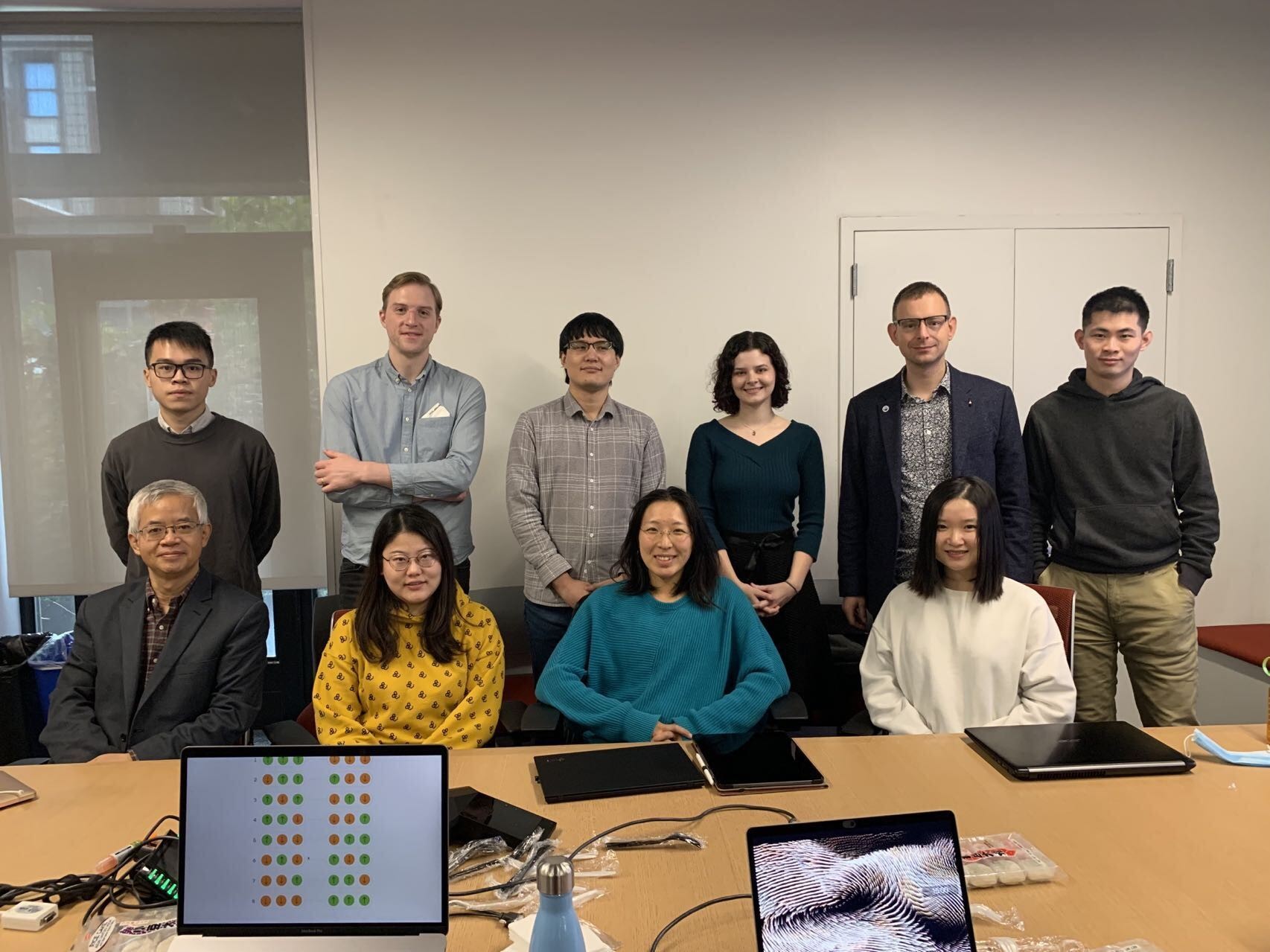 Our weekly seminars have continued on a weekly basis during the pandemic in virtual form. 
Past Seminar Dates and Rooms
Starting March 16, Spring 2020, the meeting is taking place online Mon/Wed afternoons (unless noted otherwise):
14:00pm-15:30pm, Mar 30, 2020 Room 417 Mudd
14:00pm-15:30pm, Mar 25, 2020 Room 417 Mudd
14:00pm-15:30pm, Mar 23, 2020 Room 417 Mudd
14:00pm-15:30pm, Mar 18, 2020 Room 417 Mudd
14:00pm-15:30pm, Mar 16, 2020 Room 417 Mudd
13:30pm-15:30pm, Mar 03, 2020 Room 417 Mudd
14:00pm-16:00pm, Feb 27, 2020 Room 417 Mudd
14:00pm-16:30pm, Feb 19, 2020 Room 417 Mudd
14:00pm-16:30pm, Feb 12, 2020 Room 417 Mudd
14:00pm-16:30pm, Jan 29, 2020 Room 417 Mudd
14:30pm-16:30pm, Jan 17, 2020 Room 417 Mudd
Note: in Fall 2019, the meeting is taking place Wed afternoon (unless noted otherwise):
14:00pm-16:30pm, Jan 2, 2020 Room 417 Mudd
10:30am-14:30pm, Dec 27, 2019 Room 417 Mudd
14:00pm-16:30pm, Dec 18, 2019 Room 417 Mudd
14:00pm-16:30pm, Dec 11, 2019 Room 417 Mudd
14:00pm-16:00pm, Dec 4, 2019 Room 417 Mudd
14:00pm-16:30pm, Nov 27, 2019 Room 417 Mudd
14:00pm-16:30pm, Nov 20, 2019 Room 417 Mudd
14:00pm-16:30pm, Nov 13, 2019 Room 417 Mudd
14:00pm-16:30pm, Nov 6, 2019 Room 417 Mudd
14:00pm-16:30pm, Oct 30, 2019 Room 417 Mudd
14:00pm-16:00pm, Oct 23, 2019 Room 417 Mudd
14:00pm-16:30pm, Oct 16, 2019 Room 417 Mudd
14:00pm-16:30pm, Oct 9, 2019 Room 417 Mudd
14:00pm-16:30pm, Oct 2, 2019 Room 417 Mudd
14:00pm-16:30pm, Sept 25, 2019 Room 417 Mudd
14:00pm-16:30pm, Sept 18, 2019 Room 417 Mudd
14:00pm-16:00pm, Sept 11, 2019 Room 417 Mudd
14:00pm-16:30pm, Sept 4, 2019 Room 417 Mudd
Note: in Spring 2019, the meeting is taking place Friday moring, in a bigger room (except noted otherwise):
1:30pm-16:30pm, July 22, 2019 Room 417 Mudd
2:00pm-16:30pm, July 8, 2019 Room 417 Mudd
10:00am-13:00pm, July 3, 2019 Room 417 Mudd
10:30am-13:00pm, June 26, 2019 Room 417 Mudd
10:30am-13:00pm, June 5, 2019 Room 417 Mudd
10:00am-13:00pm, May 29, 2019 Room 417 Mudd
14:00pm-17:00pm, May 15, 2019 Room 417 Mudd
14:00pm-17:00pm, May 8, 2019 Room 417 Mudd
14:00pm-17:00pm, May 1, 2019 Room 417 Mudd
14:00pm-17:00pm, Apr 24, 2019 Room 417 Mudd
14:00pm-17:00pm, Apr 17, 2019 Room 417 Mudd
14:00pm-17:00pm, Apr 10, 2019 Room 417 Mudd
14:00pm-17:00pm, Apr 03, 2019 Room 417 Mudd
14:00pm-17:00pm, Mar 27, 2019 Room 417 Mudd
14:00pm-17:00pm, Mar 13, 2019 Room 417 Mudd
14:00pm-17:00pm, Mar 06, 2019 Room 417 Mudd
14:00pm-17:00pm, Feb 13, 2019 Room 417 Mudd
14:00pm-17:00pm, Feb 06, 2019 Room 417 Mudd
14:00pm-17:00pm, Jan 30, 2019 Room 417 Mudd
10:00am-13:00pm, Jan 18, 2019 Room 417 Mudd
10:00am-13:00pm, Jan 04, 2019 Room 535 Mudd
Note: in Fall/Summer 2018, the meeting is changed to Friday moring (except noted otherwise):
10:00am-13:00pm, Dec 28, 2018 Room 535 Mudd
10:00am-13:00pm, Dec 21, 2018 Room 535 Mudd
10:00am-13:00pm, Nov 30, 2018 Room 535 Mudd
10:00am-13:00pm, Nov 16, 2018 Room 535 Mudd
10:00am-13:00pm, Nov 09, 2018 Room 535 Mudd
10:00am-13:00pm, Oct 26, 2018 Room 535 Mudd
10:00am-13:00pm, Oct 10, 2018 Room 535 Mudd
10:00am-13:00pm, Sep 27, 2018 Room 535 Mudd
10:00am-13:00pm, Sep 20, 2018 Room 535 Mudd
10:00am-13:00pm, Sep 13, 2018 Room 535 Mudd
10:00am-13:00pm, Sep 06, 2018 Room 535 Mudd
10:00am-13:00pm, Aug 23, 2018 Room 535 Mudd
10:00am-13:00pm, Aug 16, 2018 Room 535 Mudd
10:00am-13:00pm, July 19, 2018 Room 535 Mudd
Spring 2018, meeting takes place on Wed moring (except noted otherwise):
10:00am-13:00pm, May 09, 2018 Room 535 Mudd
10:00am-13:00pm, Apr 25, 2018 Room 535 Mudd
10:00am-13:00pm, Apr 18, 2018 Room 535 Mudd
10:00am-13:00pm, Apr 09, 2018 Room 417 Mudd
10:00am-13:00pm, Apr 04, 2018 Room 535 Mudd
10:00am-13:00pm, Mar 28, 2018 Room 535 Mudd
10:00am-13:00pm, Mar 07, 2018 Room 535 Mudd
10:00am-13:00pm, Feb 28, 2018 Room 535 Mud
10:00am-13:00pm, Feb 22, 2018 Room 535 Mud
10:00am-13:00pm, Feb 14, 2018 Room 535 Mud
10:00am-13:00pm, Feb 07, 2018 Room 535 Mud
16:00pm-19:00pm, Jan 31, 2018 Room 535 Mud
10:00am-13:00pm, Jan 24, 2018 Room 535 Mud
Fall 2017, the meeting is changed to Wed afternoon:
10:00am-13:00pm, Dec 28, 2017 Room 535 Mudd
16:00pm-18:00pm, Dec 05, 2017 Room 535 Mudd
15:00pm-18:00pm, Nov 29, 2017 Room 535 Mudd
15:00pm-18:00pm, Nov 22, 2017 Room 535 Mudd
15:00pm-18:00pm, Nov 14, 2017 Room 535 Mudd
15:00pm-18:00pm, Nov 08, 2017 Room 535 Mudd
15:00pm-18:00pm, Nov 01, 2017 Room 535 Mudd
15:00pm-18:00pm, Oct 25 2017 Room 535 Mudd
15:00pm-18:00pm, Oct 18, 2017 Room 535 Mudd
15:00pm-18:00pm, Oct 11, 2017 Room 535 Mudd
15:00pm-18:00pm, Oct 04, 2017 Room 535 Mudd
15:00pm-18:00pm, Sept 27, 2017 Room 535 Mudd
14:30pm-16:30pm, Sept 20, 2017 Room 535 Mudd
16:00pm-18:30pm, Sept 15, 2017 Room 535 Mudd
14:30pm-16:30pm, Sept 13, 2017 Room 535 Mudd
14:30pm-16:30pm, Sept 6, 2017 Room 535 Mudd
Spring 2017, the meeting takes place in DSI conference room:
10:30am-12:30pm, May 10, 2017 Room 535 Mudd
10:30am-12:30pm, May 03, 2017 Room 535 Mudd
10:30am-12:30pm, Apr 26, 2017 Room 535 Mudd
10:30am-12:30pm, Apr 19, 2017 Room 535 Mudd
10:30am-12:30pm, Apr 12, 2017 Room 535 Mudd
10:30am-12:30pm, Apr 05, 2017 Room 535 Mudd
10:30am-12:30pm, Mar 29, 2017 Room 535 Mudd
10:30am-12:30pm, Mar 22, 2017 Room 535 Mudd
10:30am-12:30pm, Mar 15, 2017 Room 535 Mudd
10:30am-12:30pm, Mar 08, 2017 Room 535 Mudd
10:30am-12:30pm, Mar 01, 2017 Room 535 Mudd
10:30am-12:30pm, Feb 22, 2017 Room 535 Mudd
10:30am-12:30pm, Feb 15, 2017 Room 535 Mudd
10:30am-12:30pm, Feb 01, 2017 Room 535 Mudd
10:30am-12:30pm, Jan 25, 2017 Room 535 Mudd
10:30am-12:30pm, Jan 18, 2017 Room 535 Mudd
Fall 2016
10:30am-12:30pm, Dec 06, 2016 Room 535 Mudd
10:30am-12:30pm, Nov 29, 2016 Room 535 Mudd
10:30am-12:30pm, Nov 22, 2016 Room 535 Mudd
10:30am-12:30pm, Nov 15, 2016 Room 535 Mudd
10:30am-12:30pm, Nov 08, 2016 Room 535 Mudd
10:30am-12:30pm, Nov 01, 2016 Room 535 Mudd
10:30am-12:30pm, Oct 27, 2016 Room 535 Mudd
10:30am-12:30pm, Oct 25, 2016 Room 535 Mudd
10:30am-12:30pm, Oct 18, 2016 Room 535 Mudd
10:30am-12:30pm, Oct 11, 2016 Room 535 Mudd
10:30am-12:30pm, Oct 06, 2016 Room 535 Mudd
10:30am-12:30pm, Oct 04, 2016 Room 535 Mudd
10:30am-12:30pm, Sep 29, 2016 Room 535 Mudd
10:30am-12:30pm, Sep 27, 2016 Room 535 Mudd
10:30am-12:30pm, Sep 22, 2016 Room 535 Mudd
10:30am-12:30pm, Sep 15, 2016 Room 535 Mudd
10:30am-12:30pm, Sep 13, 2016 Room 535 Mudd
10:30am-12:30pm, Sep 08, 2016 Room 535 Mudd
10:30am-12:30pm, Sep 06, 2016 Room 535 Mudd
10:00am-11:30am, Aug 15, 2016, Room 535 Mudd
(Talk by Marta D'Elia, Sandia National Lab, on "A coupling strategy for nonlocal and local diffusion models")
10:00am-11:30am, Aug 10, 2016 Room 535 Mudd
13:00-14:30pm, July 27, 2016 Room 535 Mudd
14:00-15:30pm, July 15, 2016 Room 535 Mudd
15:00-16:30pm, July 8, 2016 Room 535 Mudd
15:30-17:00pm, June 28, 2016 Room 535 Mudd
09:00-10:30am, June 22, 2016 Room 535 Mudd
10:00-1:30pm, May 13, 2016 Room 535 Mudd
12:00-2:30pm, May 4, 2016 Room 535 Mudd
12:00-2:30pm, Apr 21, 2016 Room 535 Mudd
12:00-2:30pm, Apr 13, 2016 Room 535 Mudd
12:00-2:30pm, Apr 06, 2016 Room 535 Mudd
12:00-2:30pm, Mar 30, 2016 Room 535 Mudd
12:00-2:30pm, Mar 23, 2016 Room 535 Mudd
12:00-2:30pm, Mar 16, 2016 Room 535 Mudd
12:00-2:30pm, Mar 09, 2016 Room 535 Mudd
12:00-2:30pm, Mar 02, 2016 Room 535 Mudd
12:00-2:30pm, Feb 24, 2016 Room 535 Mudd
12:00-2:30pm, Feb 17, 2016 Room 535 Mudd
12:00-2:30pm, Feb 10, 2016 Room 535 Mudd
In Spring 2016, CM3 group seminar meets regularly on Wed of each week:
12:00-2:30pm, Feb 3, 2016 Room 284A ET
12:00-2:30pm, Jan 27, 2016 Room 284A ET
12:00-2:30pm, Jan 20, 2016 Room 284A ET
Fall 2015
4-6pm, Dec 3, 2015 Room 287 ET
12:30-2:30pm, Nov 25, 2015 Room 287 ET
4-6pm, Nov 11, 2015 Room 287 ET
3-5pm, Nov 3, 2015 Room 287 ET
2-4pm, Sep 16, 2015 Room 287 ET